The National Stock Exchange (NSE) and the Bombay Stock Exchange (BSE) of India have released a list of stock market holidays list 2022.
The list includes nine holidays that will fall on different days this year, and a tenth one – the Mahurat trading day – which marks the start of the new financial year on 1 April. The table below lists the dates that are market holidays in 2020 and the dates when they are observed in 2021 and 2022. If a holiday falls on a weekday, the market will be closed for the whole day on that day. However, if it falls on a weekend, the market will be closed for only half a day on that date.
Let's start the article about NSE & BSE Stock Market Holidays List 2022
NSE & BSE Holidays 2022 List (Stock Market Holidays List 2022)
Trading Holidays List 2022 falling on Saturdays and Sundays
Stock Market Holidays List 2022 Overview
Whenever these NSE and BSE Stock Market Holidays List is considered, then the any latest Upcoming IPOs listing days also will not be getting counted in that. It mean basically when we have 3-4 days available to apply in any upcoming IPO, these holidays will be getting excluded from that list.
There are a total of 13 trade holidays in 2022, according to the list published on the BSE website. These are the days in 2022, in addition to Saturdays and Sundays, when the trade will not take place. There will be no trading on the equities sector, equity derivatives section, or SLB segment during these trading holidays.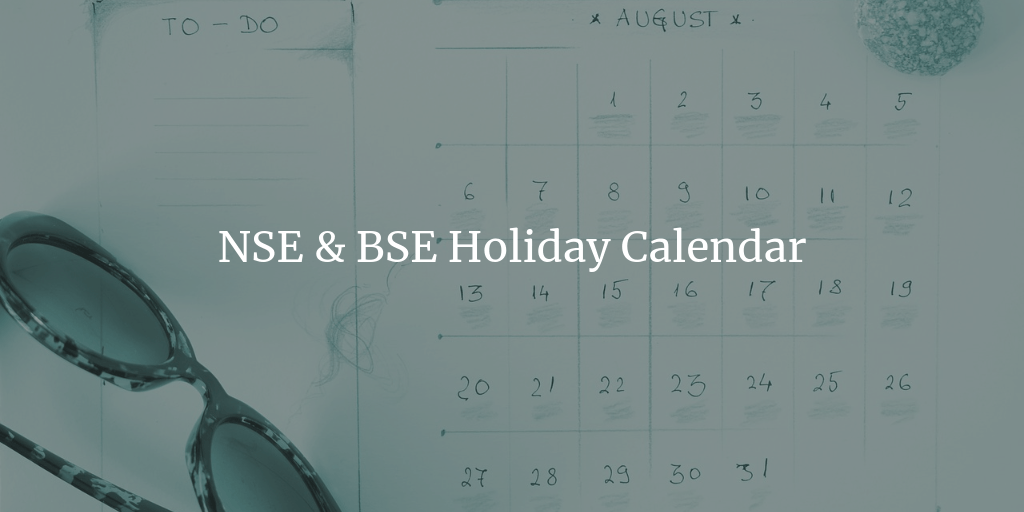 The full list of trading holidays for 2022 is provided below, with the exception of Saturdays and Sundays, which are trade holidays by default. The second list also includes holidays that fall on Saturdays and Sundays.
There is only one holiday in January, Republic Day on Wednesday, January 26. Maha Shivratri and Holi are two holidays in March that fall on March 1 and March 18, respectively. There are two holidays in April: Mahavir/Ambedkar Jayanti on April 14, a Thursday, and Good Friday on April 15, 2022, a Friday.
There is only one trade holiday in May, which is Ramzan Id on Tuesday, May 3, 2022. There are no trading holidays in June or July other than on Saturdays and Sundays.
There are three holidays in August: Muharram, Independence Day, and Ganesh Chaturthi on August 9, 2022 (Tuesday), August 15, and August 31, respectively.
In September 2022, there are no holidays on weekdays. For Dussehra, Diwali, and Diwali Balipratipada, respectively, the three trading holidays in October fall on October 5 (Wednesday), October 24 (Monday), and October 26 (Wednesday).
There is only one trading holiday in November 2022, which is Tuesday, November 8, Gurunanak Jayanti. There are no trading holidays that fall on Saturdays or Sundays in December 2022.
There are no designated special holidays for the five annual holidays that fall on Sundays: Ram Navami, Maharashtra Day, Bakri Id, Mahatma Gandhi Jayanti, and Christmas.
Conclusion on Stock Market Holidays List 2022
There are many stock market holidays throughout the year. Some are more important than others, but all provide opportunities to buy and sell stocks. The following is a brief overview of the most important stock market holidays. What is a holiday? A holiday is a day that investors are unable to trade in the stock market for various reasons. Some of these reasons include major news events, religious observances, and market closures (e.g. Christmas Day).
This is the end of the article of NSE & BSE Stock Market Holidays List 2022. Visit us more for latest Upcoming IPOs.